On Thursday afternoon 30 June 2005, Ilonka de Lezenne Coulander received her midwife diploma in Turnhout. In Belgium this is called Bachelor in Vroedkunde (Midwifery). It took Ilonka two years to complete the part-time course in midwifery at the Turnhout, Belgium, campus of the Katholieke Hogeschool Kempen.
"We are tremendously proud of our daughter!!" announced Maarten and Lia, Ilonka's parents, after attending the event.
"She worked very hard for it. Shift work at the hospital and continuing her education at the same time. My sincere congratulations.", says Ilonka's grandmother.
After the MAVO in Hoogerheide and the HAVO in Bergen op Zoom, Ilonka (1978) attended the Hogere Beroepsopleiding Verpleegkunde (HBOV) in Breda. In 2001 she received her diploma from this four-year course. This resulted swiftly in an appointment as a nurse at the maternity ward of the Ziekenhuis Lievensberg in Breda. Additional training as an obstetric nurse followed shortly afterwards.
Ilonka worked as an apprentice in various hospitals, including the Amphia Ziekenhuis in Breda and the Medisch Centrum Rijnmond-Zuid (MCRZ) in Rotterdam. For the most recent course, she served an apprenticeship at the OLV Middelares Ziekenhuis in Deurne, near Antwerp, Belgium.
Since a number of years, Ilonka lives in Bergen op Zoom with her partner Ronald Nagelkerke. She still accompanies her father faithfully every week to the R.K. Fanfare 'De Volharding' in Putte, where she plays the saxophone.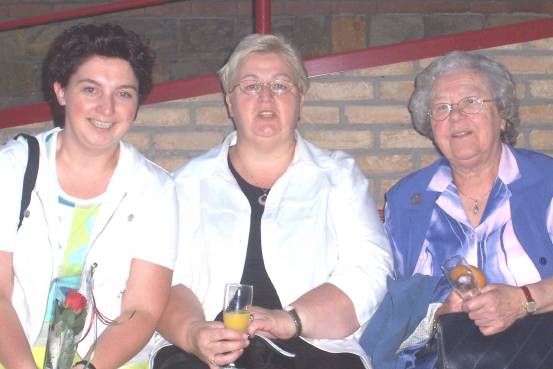 Ilonka (l) with mother Lia (m) and grandmother (r).