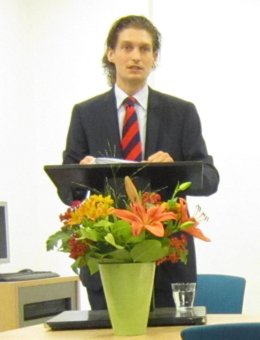 On 28 August 2013 Lucien de Lezenne Coulander completed his university education by graduating as Master of Laws in Notary Law at the Radboud University Nijmegen. He publicly defended his thesis under the critical eyes of the exam commission and in the presence of family and friends.
Titled "Een econoom in de crisis?" ('An econome in the crisis?') he has discussed the subject of the economic ownership (an 'econoom' in Dutch notary jargon) in relation to the Dutch real estate transfer tax ('overdrachtsbelasting') in the past and the present. Economic ownership under Dutch law is a type of ownership whereby the acquirer buys the rights to a property without transferring the legal title. This particular kind of ownership was attractive for the acquirer until the mid 1990s, because it was not subject to real estate transfer tax, although the acquirer had almost the same rights and duties as the legal owner. Since this type of acquisition also became subject to tax, multiple successive changes of law have been enacted by the legislature.
"It was not an easy ride and if Lucien has proven anything, it is that he keeps going and does not give up in the face of adversity," according to his uncle Kees.
With the completion of his studies, Lucien ended a student period which started with the study of Spatial Planning combined with Business Administration. As these subjects did not conform to his expectations, he switched to the more practicing study of Law. After the general and broad first year of the law studies, he chose the specialization of notary law. Throughout this period, he also took part in various extracurricular activities.
The switch from spatial planning to law does not mean that Lucien lost his interests in geographical issues. On the contrary, he continues to expand these interests by collecting and studying various old maps and atlasses as a hobby.

Lucien in front of the University Auditorium surrounded by uncles.