The senior member of the family, Cornelis Gerardus ('Cor') de Lezenne Coulander passed away in the early hours of Saturday, 15 September 2007, at the age of 89.
Cor was born on May 18, 1918 in the centre of the old city of Rotterdam. He was trained as a car mechanic but did not succeed in this profession due to the adverse economic circumstances of the time. He then retrained as a milling machine operator.
Just before the second world war, he met E.M. ('Bets') Steenblok. They were married on December 20, 1944, in the middle of the 'hunger winter' and found a home in Hillegersberg. The couple was blessed with five childeren. When all children had left the parental home, it was decided in 2000 to move to a new appartment in Roosendaal.
Cor remained very vital at an advanced age. From early 2007, it became clear that life was becoming a bit more difficult. At the end of the first week of September, his health still rather suddenly went into a steep decline. The end came just over a week later.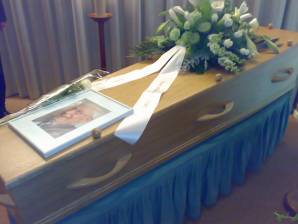 Cor is survived by a wife, five children and six grandchildren. To his great regret, he just missed the arrival of the first great-grandchild.
The funeral took place on the afternoon of Wednesday September 19, 2007, at the cemetery Zegestede in Roosendaal. It was attended by a large number of people.