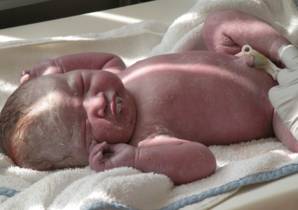 At 12:14 on Wednesday April 15, 2009 Ronald and Ilonka Nagelkerke were blessed with the birth of their second child. It is once again a girl who received the name Sofie. She weighed 3715 grammes. This time, the delivery took place in the hospital.
Grandparents Lia and Maarten were at the Nagelkerke home to look after first-born Lotte. "After just two hours, Ilonka called us to say that Sofie was born. So we immediately took Lotte along to visit the poroud parents."
"I visited them last Sunday (12 April) and Ilonka was cooking Easter dinner for the whole family. And a few days later she has another child. Unbelievable!," says greatgrandmother de Lezenne Coulander.
"Sofie looks very much like her big sister, but her weight is a bit less", says Ilonka. "She does very well and is quiet and happy as long as she gets her feedings regularly."
Lotte (1 year and 7 months) is a proud big sister and showers Sofie with lots of kisses and hugs.
Mother Ilonka expects to resume her work as a midwife for three days a week at the Groene Hart Hospital in Gouda within a few months.
Parents Ilonka and Ronald with daughters Lotte and Sofie.
More photos can be found in the album 'Sofie, dochter van Ilonka en Ronald' in the Photo Galery.