On Friday April 29, 2011, Kees de Lezenne Coulander left engineering consultancy ADSE in Hoofddorp due to reaching retirement age.
Kees studied aeronautical engineering at the Technological Univcersity in Delft and the Cranfield Institute of Technology in Cranfield, England.
Having already worked at Fokker during the preparation of his thesis, Kees returned to Fokker in January 1973 after having fulfilled his national military service. He contributed to several project studies at the Preliminary Design Department, of which the F-28 Mk-4000 deserves special mention. After some time Kees specialised in developing and maintaining computer programs for aircraft and engine performance calculations. These programs made an important contribution during the development of the Fokker 50 and Fokker 100.
Following the bankruptcy of Fokker in March 1996, Kees was quickly invited to join the newly-founded ADSE. Until this point in time the running of large technical calculation programs required large and expensive mainframe systems. By a stroke of luck, computer technology had now advanced just far enough to make it possible to run these programs on much cheaper PCs. This meant that programming activities could be resumed on the PC and these programs were used at ADSE for various projects. The aircraft performance program still plays an important role during the development of a modernised Fokker 100 by NG Aircraft (formerly Rekkof).
Upon his departure from ADSE, Kees was very much surprised to be presented with a model of the first Fokker 100 of K.L.M. with the appropriate registration marks PH-KLC.
At the end of the afternoon a large number of (former) colleagues gathered in the loft of the Kempers Roef restaurant in Kudelstaart. The congregation was dominated by a large group of employees of the Preliminary Design Department of the former Fokker factory.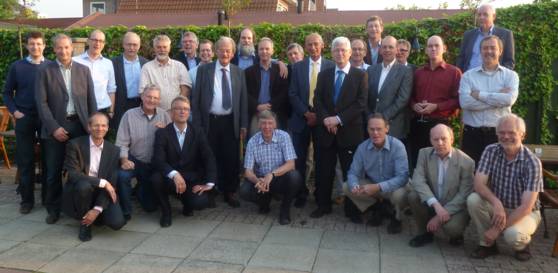 All guests in the yard of Kempers Roef.