Mrs. Elizabeth Maatje ('Bets') de Lezenne Coulander-Steenblok passed away in the late afternoon of Tuesday October 2, 2012, at the age of 89 years.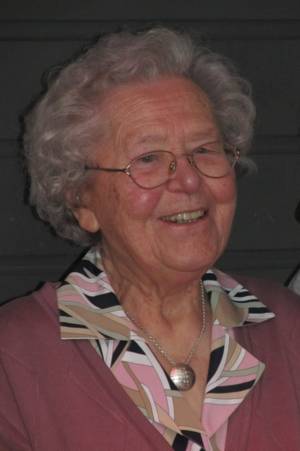 Bets Steenblok was born on July 2, 1923 in 's-Heer Arendskerke on the Zuid-Beveland peninsula in the province of Zeeland. She spent her youth at the farm of her parents in nearby Nieuwdorp. After finishing the village elementary school, she left the parental home to continue her education elsewhere. She was welcomed into the home of her uncle, pastor Steenblok, who practiced at various locations in the provinces of Zuid-Holland and zeeland, including Kralingseveer (Rotterdam), Poortvliet (Tholen) and Dordrecht.
Just before the second world war, she suffered a tyre puncture during a bicycle trip in the vicinity of Rotterdam. A gallant young man from Rotterdam, Cor de Lezenne Coulander, could quickly fix that. One thing led to another and the couple married on December 20, 1944, in the depth of the 'hunger winter'. They found living accomodation in Hillegersberg (Rotterdam), initially subrenting due to the scarcity of homes and from August 1956 in a proper family home. The couple was blessed with five children. When all children had left the parental home, it was decided in 2000 to move to a new apartment in Roosendaal.
Cor died in September 2007, leaving Bets to continue on her own. Although she had never touched a computer before, she learned e-mailing at the age of 84 years. This was not easy, in particular because severely shaking hands prevented her from using a mouse in the normal manner.
Over the years, her health gradually declined and she needed more and more help with daily activities. Although a move to a care home seemed the obvious solution, it was her greatest wish to remain in her own home. Thanks to the untiring help of home care, family and neighbours, this proved possible until the very end.
During the morning of Tuesday October 2, Bets bought some new clothes and did some other shopping. In the late afternoon, while putting her new clothes away, her heart suddenly stopped. Bets and Cor are survived by five children, six grandchildren and four great-grandchildren.
The funeral took place in the afternoon of Tuesday October 9, 2012, at the Zegestede cemetary in Roosendaal. It was attended by family, friends and acquaintances. Bets was buried in the same grave as her husband who had preceded her by five years.