The name de Lezenne Coulander is composed of the two elements de Lezenne and Coulander. The history of both names goes back for at least two centuries. In 1812 the two names were joined by the marriage in Rotterdam between Pieter Coulander en Adriana de Lezenne.
Pieter Coulander was a native of Naarden and his ancestors can be traced there during the whole of the eighteenth and a part of the seventeenth century. The surname Coulander is most likely derived from the former duchy of Courland, of which the name survives to this day as that of a region in the Baltic state of Latvia.
Adriana de Lezenne lived in Rotterdam and her ancestors lived there as well during the whole of the eighteenth century. The surname de Lezenne is most likely derived from the village of Lezennes in the metropolitan area of Lille in Northern France. The name possibly goes back as far as the end of the sixteenth century when the French Huguenots fled in large numbers to other countries. This is not certain however. The oldest known reference to the name de Lezenne in Rotterdam dates from 5 March 1677, when a son from the marriage of Bernardus de Lezenne and Maria Pasmans was baptized.
One of the sons from the marriage between Pieter Coulander and Adriana de Lezenne received the first names Cornelis de Lezenne according to the birth certificate. His son once again received the first name Pieter and the latter adopted the name Pieter de Lezenne Coulander. The name de Lezenne Coulander was considered as two surnames, which was not uncommon in the nineteenth century.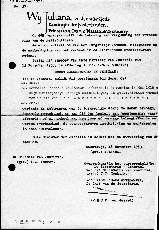 In the second world war (1940-1945) the name de Lezenne Coulander was shortened to Coulander by the order of the German occupation forces. It took until 1953 before this was rectified by a Royal Decree and the family could call itself de Lezenne Coulander once again. This led to the unusual situation that the generation which was born during or shortly after the second world war, initially had the name Coulander, and changed surname during school years.
The name de Lezenne Coulander originated in Rotterdam and most descendants remained loyal to this city for approximately a century and a half. During the last decades, however, the family members have gradually spread over the rest of the Netherlands. The final result is that Rotterdam at the moment does not count a single real de Lezenne Coulander among its inhabitants anymore.